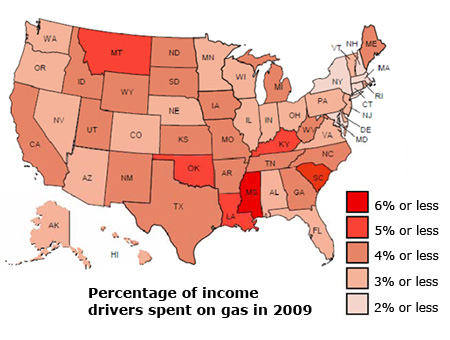 I admit, I don't know exactly how much I pay for gas every year. I bet most people don't. But we should, because it's a lot.
Average Texas drivers paid $1,819 for gas last year, chewing up 4.9 percent of their incomes, according to numbers crunched by the National Resources Defense Council.
Texas ranked seventh among states for percent of incomes spent on gas. Mississippi was first with 6.2 percent, while Connecticut was last with just 2.5 percent. 
Remember, though, regular-grade gas last year was 90 cents a gallon cheaper than in 2008, when prices careened to $4 a gallon. Thus, the point of this NRDC white paper: What would happen if prices, which are steadily rising, spiked again?
For Texans, the answer is gas bills 80 percent higher — or 8.7 percent of incomes. If the next spike turns into a steep plateau, the bill over a year would average $3,264.
Links: